Nel precedente post del 20 Settembre ricordavo che l'Accordo di Partenariato (AdP) 2021-2027, in forte continuità con quello del periodo 2014-2020, conferma sia l'obiettivo di fondo della Strategia Nazionale per le Aree Interne (SNAI) – il riequilibrio demografico – sia i due pilastri delle strategie integrate di sviluppo formulate per queste aree caratterizzate da strutturali condizioni di relativo svantaggio economico), ossia:
• la costituzione delle pre-condizioni per lo sviluppo territoriale, attraverso il miglioramento dell'offerta dei servizi (in particolare quelli educativi, quelli sanitari e quelli di mobilità);
• la promozione di progetti di sviluppo locale, che possano garantire il consolidamento di processi di sviluppo endogeno e la creazione di nuova occupazione.
In merito, si può dire che il disegno strategico della SNAI è assolutamente in linea con le riflessioni più accreditate sulle politiche strutturali di sviluppo, secondo le quali gli obiettivi diretti (a breve termine) delle politiche regionali sono:
• raggiungimento di obiettivi politici e sociali (fondamentale per potenziare la dotazione di capitale territoriale);
• potenziamento della competitività economica;
• supporto di aree particolarmente deboli (si vedano i contributi di Fratesi e Perucca riportati nella nota 2).
I primi due obiettivi diretti delle politiche regionali, come si evince dalla Figura che segue, sono di fatto i capisaldi della SNAI.
Figura 1 – La relazione tra il capitale territoriale e l'impatto delle politiche regionali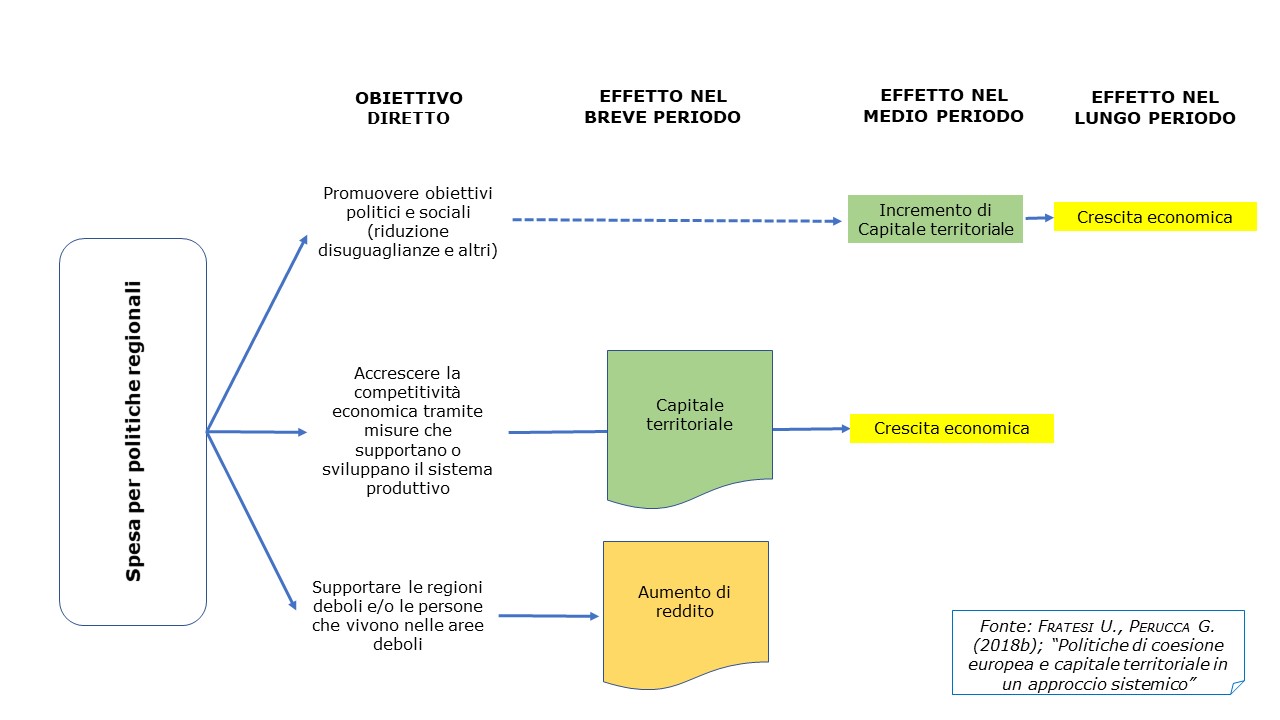 ******
[1] Qui si fa riferimento alla bozza dell'AdP oggetto del negoziato con la Commissione, datata 23 Giugno 2021.
Per un inquadramento della SNAI si veda la più recente Relazione Annuale sulla Strategia Nazionale per le Aree Interne (aggiornata al 31.12.2019).
[2] Cfr FRATESI U., PERUCCA G. (2018a); "Territorial capital and the resilience of European regions"; The Annals of Regional Sciences, 60/2; FRATESI U., PERUCCA G. (2018b); "Politiche di coesione europea e capitale territoriale in un approccio sistemico"; in SENATO-UFFICIO DI VALUTAZIONE IMPATTO; L'impatto della politica di coesione in Europa e in Italia, Roma.